Description
Additional information
Reviews (0)
Description
Looking for Fryd Carts for sale? Look no further! At Fryd Bars, we offer a wide selection of premium Fryd Carts to enhance your vaping experience. Whether you're a connoisseur or new to vaping, we have the perfect options for you.
FRYD carts are high-quality vape cartridges designed for use with compatible vaping devices. They are made with premium THC distillate and natural terpenes, delivering a potent and flavorful vaping experience. FRYD carts are available in a variety of strains, each with its own unique flavor profile and effects. Whether you're looking for a relaxing indica or a stimulating sativa, FRYD carts have something for everyone.
The fryd cartridges are made with high-quality materials and are designed to be leak-proof, ensuring a clean and hassle-free vaping experience. They are easy to use and can be quickly attached to your device. Each cartridge contains 1g of THC distillate and delivers a smooth and consistent vaping experience.
FRYD carts are perfect for those who want a convenient and discreet way to enjoy cannabis on the go. They are lab tested for quality and purity, ensuring that you get the best possible vaping experience. Try FRYD carts today and experience the ultimate in cannabis vaping.
Our Fryd Carts are crafted with precision and attention to detail, ensuring a smooth and flavorful vaping session. Each cartridge is filled with high-quality cannabis oil that delivers consistent potency and exceptional taste. With a variety of flavors and strains to choose from, you can find the perfect match for your preferences.
When you shop at Fryd Bars, you can trust that you're getting authentic Fryd Carts. We take pride in sourcing our products directly from trusted manufacturers, guaranteeing their quality and reliability. Your satisfaction is our top priority, and we strive to provide you with the best vaping experience possible.
Fryd Cart Box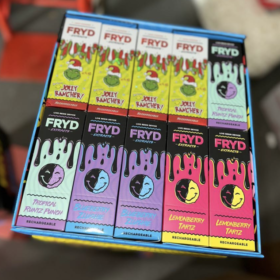 Additional information
| | |
| --- | --- |
| QUANTITY | 10 carts, 20 carts, 50 carts, 100 carts, 200 carts, 500 carts |
| CHOOSE FLAVOR | Mixed, Watermelon Gushers, Tropical Runtz Punch, Pink Starburst Fryd, Lemonberry Tartz, Pink Guava Gelato, Double Stuf Oreo |
| CHOOSE GRAMS | 1 Gram, 2 Grams |
| STRAIN TYPE | MIXED, INDICA, SATIVA, HYBRID |